Supply Planning. Managed. See the Proof.
How O8 improved supply planning for a leading health, beauty, and pharmaceutical manufacturer.
Although weekly promotional volatility causes peaks and valleys in customer demand, in most cases historical demand is actually quite steady. Tranformational results are typical when you understand the true picture of overall customer demand. Learn how you can discontinue the ineffective forecasting process for the majority your SKUs and position stock to absorb normal variability and use real demand as your planning metric.
The results are clear:
Material stocks improvement
(from 4 – 8 inventory turns)
Finished goods reduction
(30% reduction in first 6 month)
Service
(from an average of over 100 to 10 out of stocks per week)
Reduction in lead times
(Halved for VMI customer)
Re-allocation of resource
(40% reduction in planners)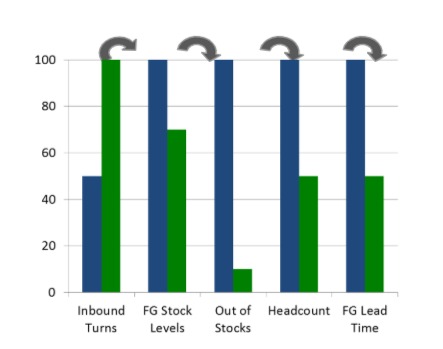 Transformational results are achievable.
Up and running in 90 days.
100% remote implementation.
Pay no subscription fees until ROI is achieved.
100% remote implementation
Reduce inventory levels by 30-70%
Unburden significant capital locked in inventory
Compress lead times up to 85%
Decrease obsolete inventory by up to 90%
Diminish plan changes to less than 5%
Shrink planner workload by 70%
Provide customer service levels above 90%
Avoid CAPEX and enable higher overhead absorption
O8 is the only enterprise capable
DDMRPII
™

software solution available.
The only provider to have a team of professionals with 10 years+ real-world experience implementing and problem-solving in a DDMRP environment
The only one to deliver 10x increase in planner/SKU ratio as well as the expected inventory and service improvements
The only one that can cope with any supply chain challenge you may have
Modular server setup design to enable quick rollout to other locations if required
Uses a server based web portal to eliminate the security/support issues associated with local web browsers, e.g. IE, Mozilla, Chrome and Safari
Ability to commit to any service level agreement without 3rd party involvement
Total control over support, DR and maintenance
Discover the Difference: Supply Planning. Managed.
View the storybook and discover the difference O8 can have on your supply chain planning.