AFFORDABLE & EFFICIENT
S&OP/sCENARIO PLANNING SOLUTION
An Affordable and Efficient S&OP / Scenario Planning Solution
Need an affordable, easy-to-use solution for running supply chain simulations? With Orchestr8 you can review detailed simulations in a controlled environment and quickly analyze endless what-if scenarios across the supply chain.
Realistic What-If Analysis
Orchestr8 supports historical, what if analysis and forward simulations that show the potential impact of the current forecast given existing parameters. Capacity planning reports are linked to the forward simulation functionality to allow resources and physical supply chain elements to be planned effectively. Results are generated in terms of likely stock profiles, number of transactions (make events, sales, orders and receipts), space requirements and resources required.
Key supply chain parameters – such as forecast, lead time and service targets — can be altered, and simulations can be run at item and group level giving users complete flexibility. The solution includes the ability to:
Alter planning rules, dates, service levels, targets, lead time, MOQ, forecast or demand data
Save and access scenarios after they have been run
Run simulations across multiple nodes in the supply chain
Fully support BOD & BOM explosion of the forecast to analyze upstream supply chain impacts
Analyze key events and their potential impact
Can be used to provide forecasts to suppliers and supply chain partners
Link supplementary Items to set inventory targets at a supplier location or even a material of a supplier
Allow for VMI locations to be managed separately from a standard production or finished good code
Forward simulations can be conducted daily or monthly to help develop and test the inventory target rules as well as being the 'what if' data set and graphics that are the basis of your S&OP process. Contact us today to learn more.
At Orchestr8, we proudly help companies overcome high inventories and poor service – with supply and replenishment plans that practically eliminate the need for manual intervention and expediting. Our customers enjoy epic improvements in supply chain performance using a demand-driven alternative that creates supply chain plans that quickly respond to market changes.
Our track record speaks for itself. We've helped companies in these locations around the globe attain dramatic improvements in supply chain performance.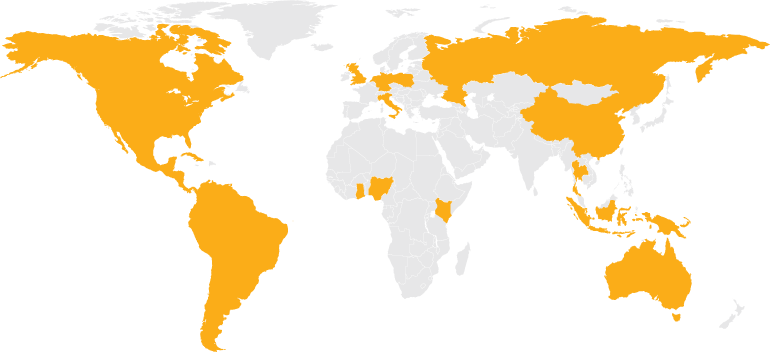 Provide customer service levels above 99%

Reduce inventory levels by 30-70%

Reduce lead-times by up to 85%

Decrease obsolete inventory by up to 90%

Shrink planner workload by 70%

Diminish plan changes to less than 5%